What You Need to Know About the Meltdown and Spectre Computer Chip Flaws
Details

Parent Category: Advice
Published on Wednesday, 17 January 2018 20:48
Hits: 577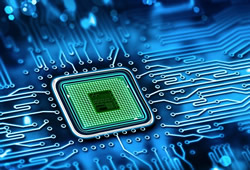 In early January, researchers announced two flaws in computer chips known as central processing units (CPUs). CPUs are what makes our digital devices run. These flaws affect almost every computer, laptop, tablet and smartphone including PC, Mac, servers, iOS and Android devices. The flaws could let attackers capture sensitive information from the CPU that they shouldn't be able to access. There are no known exploits of these flaws.
But now that they are public, there is higher the chance someone will try to take advantage of it. Software patches are being released that can fix or mitigate the flaws. In order for an attacker to take advantage of the flaws malicious software has to be installed on your device.
What Should You Do to Protect Your Devices?
Install updates on all of your devices as soon as they are available. Many updates are already available. You want to make sure that you keep all of your software updated especially your operating system, browsers, and security software.
Download apps and software only from trusted sources such as an app store.
Watch out for phishing scams. Clicking on links in emails is still the most common way for malicious software to get installed on your device.
Install and keep updated security software on all of your devices including your smartphone. Set it up to run regularly.
For More Information
By: Drew Guthrie
Carrying the goal of serving the underserved, Andrew Guthrie has taught Financial Fitness, a program which helps lead lower-income individuals into financial self-sufficiency, through Boulder County for two years. He has also volunteered with Special Olympics and Habitat for Humanity.