It's Open Enrollment Time for Many Health Insurance Plans
Details

Parent Category: Advice
Published on Friday, 23 November 2018 16:47
Hits: 154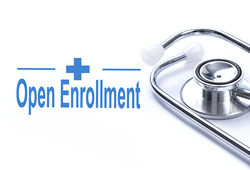 No matter how you receive your health insurance, the fall is typically when you can make changes to your health insurance plan.
Employer provided
If your health insurance is provided by your employer, you may be given an opportunity to make changes during an open enrollment period. Many employer plans have an open enrollment period in the fall to prepare for the upcoming year. Take advantage of this period to make sure that your choices meet your needs. If your employer provides a flexible spending account (FSA), health savings account (HSA), or health reimbursement arrangement (HRA), review the amount you are contributing the account.
Medicare
Open enrollment began October 15th and runs to December 7th. During this period you can change from Original Medicare to a Medicare Advantage Plan, switch Medicare Advantage Plans, switch back to Original Medicare, join a Medicare Prescription Drug Plan (only if you have Original Medicare), switch Medicare Drug Plans, or drop prescription drug coverage.
Medicare has a Plan Finder to help you review your options. It has up to date 2019 health and drug plan cost information.
Healthcare.gov
Open enrollment began November 1st and runs to December 15th. There may be new plans available in your area. So, during this period you should compare plans to see if another plan is better for you.
If you need to get health insurance you may have options other than healthcare.gov. This article from Consumer Reports provides more information.
By: Drew Guthrie
Carrying the goal of serving the underserved, Andrew Guthrie has taught Financial Fitness, a program which helps lead lower-income individuals into financial self-sufficiency, through Boulder County for two years. He has also volunteered with Special Olympics and Habitat for Humanity.