10 Principles for Your Online Privacy
Details

Parent Category: Advice
Published on Sunday, 01 April 2018 15:32
Hits: 349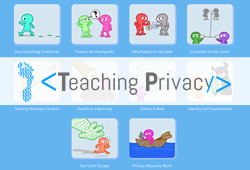 We hear about hacks, data leaks and other online scams pretty much on daily basis. If you think this couldn't affect you, think again!
Right now, you need to take control of your online privacy and take appropriate measures to guard your data and money.
The "Teaching Privacy" project by the International Computer Science Institute and the University of California-Berkeley has released "The 10 principles for Online Privacy." Each of these 10 principles have great resources to help keep you safe.
Dig in (deep)!
Keeping your personal and financial information safe is a hard task in our digital and data driven world.
Why not do this? "Teaching Privacy" already did the hard part... Figuring out all this privacy stuff.
You should take one of their tips every day for the next 10 days, and really dig into it! You will never, ever, regret doing that!
Cheers, Will
By: Will deHoo
Will deHoo—also known as Will from Holland—developed the idea of using highly interactive modules to teach financial literacy. Learn more about the Modules on the "FoolProof Education" website.